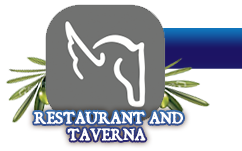 We opened Pegasus in the heart of Chicago's Greektown neighborhood in 1990. Our goal was to educate diners about the delights of Greek cuisine. While many people thought Greek cuisine was unhealthy, today that perception has changed. The many ingredients indiginous to Greece, such as extra virgin olive oil, seafood and a variety of plant-based foods, are now known to provide many health benefits. Our menu is comprised of true Mediterranean cooking that our families grew up eating and, we are proud to serve our guests these special recipes.
When you visit Pegasus, it is our hope that you will experience our philosophy: We enjoy food and people and the act of bringing them together. Pegasus is like having an open house 365 days a year. We treat our guests as if they were visiting our own homes. It's our job to make our guests feel comfortable and provide them with outstanding service from the moment of their arrival.
This philosophy carries on to our sister locations, Artopolis Bakery and Cafe just down the street at 306 South Halsted, where you can take home the wonderful bread that is featured at Pegasus and many other Greek specialties, including wine. When you come into or fly out of Midway airport, visit Pegasus on the Fly, located at the Food Court. There we feature our famous "Artopitas," delicious ready-to-eat salads and sandwiches that you can take on the plane.
Book now
Delivery Available through :
Doordash
, Delivery WOW