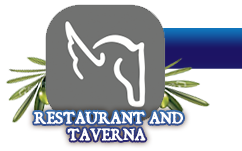 If you're visiting us between Memorial Day and Labor Day, you won't want to miss also experiencing our outdoor rooftop - the "Veranda." With seating for over 120 guests and a full bar, our Veranda offers our guests dining overlooking an unobstructed Eastern view of the Chicago skyline - an experience that remains unmatched in the city.
In the evening hours (from 4 p.m. daily), our guests can enjoy our extensive "Mezethes" menu while dining on our Veranda. "Mezethes" are small plates made for sharing, and a great way to sample a variety of the foods one would get in Greece, if ordering a meal at an outdoor eatery. Our Veranda offers a casual environment and is the perfect choice for diners to enjoy a delightful meal for just a few friends, or a large party.
Please note that we do not accept reservations for our Veranda, UNLESS reservations are for parties of 20 or more, with a preset menu and a completed Party Reservation Form. From Sunday through Thursday, parties of up to 80 people can be accommodated. On Fridays & Saturdays, parties of up to 40 people can be accommodated on our Veranda. As always, we aim to be hospitable and try to accommodate; so please contact us for any requests. We look forward to serving you!
Delivery Available through :
Doordash
, Delivery WOW